Yes, you can renew your fishing license online through the Department of Fish and Wildlife's website. You will need to provide your personal information and credit card information to complete the transaction. Once your license is renewed, you can print out a copy of it to keep with you while you fish.
Go to the Department of Natural Resources website for your state
Find the section for fishing licenses and select "Renew
Enter the required information and pay the fee
Print out or save a copy of your renewed license
Check State Regulations
Before renewing, the first thing you need to do is ensure your state allows online renewal. Most do, but regulations can vary across states regarding fishing licenses. Visit your state wildlife agency's website to check requirements and fishing license options. This will also let you confirm the current pricing.
Here is a list of U.S. states that allow online fishing license renewal, along with the website URLs:
Alabama
https://www.alabamainteractive.org/dcnr_hf/welcome.action
Alaska
https://www.adfg.alaska.gov/index.cfm?adfg=license.main
Arizona
https://www.azgfd.com/license/
Arkansas
https://www.agfc.com/en/licenses/license-applications/
California
https://www.ca.wildlifelicense.com/InternetSales/
Colorado
https://cpw.state.co.us/buyapply/Pages/Fishing.aspx
Connecticut
https://ct.aspirafocus.com/internetsales
Delaware
https://de.gov/digital/delaware-hunting-and-fishing-licenses/
Florida
https://gooutdoorsflorida.com/
Georgia
https://license.gooutdoorsgeorgia.com/Licensing/CustomerLookup.aspx
Hawaii
https://dlnr.hawaii.gov/dar/fishing/fishing-licenses-and-permits/
Idaho
https://idfg.idaho.gov/license/fishing
Illinois
https://www.ilsos.gov/departments/index/fishinghunting/home.html
Indiana
https://secure.in.gov/dnr/fishwild/7198.htm
Iowa
https://www.iowadnr.gov/Fishing/Fishing-Licenses-Laws
Kansas
https://ksoutdoors.com/License-Permits
Kentucky
https://fw.ky.gov/Fish/Pages/License-Information.aspx
Louisiana
http://www.wlf.louisiana.gov/licenses
Maine
https://mainefishandwildlifetoken.com/
Maryland
https://dnr.maryland.gov/fisheries/Pages/licensing/index.aspx
Massachusetts
https://www.mass.gov/buy-a-fishing-license-online
Michigan
https://mdnr-elicense.com/MI/Home/Index#/Information
Minnesota
https://www.dnr.state.mn.us/licenses/fishing/index.html
Mississippi
https://www.mdwfp.com/wildlife-hunting/license-information/
Missouri
https://huntfish.mdc.mo.gov/fishing/permits
Montana
https://app.mt.gov/Als/Index
Nebraska
https://ngpc.ne.gov/permits/fishing-permits
Nevada
http://www.ndowlicensing.com/
New Hampshire
https://nhfishandgame.com/
New Jersey
https://www.state.nj.us/dep/fgw/fish.htm
New Mexico
http://www.wildlife.state.nm.us/fishing/
New York
https://decals.dec.ny.gov/DECALSCitizenWeb/loginregister.htm
North Carolina
https://www.ncwildlife.org/Licensing/Purchase
North Dakota
https://gf.nd.gov/license
Ohio
https://oh-web.s3licensing.com/OA_HTML/OA.jsp?page=/oracle/apps/irc/hc/personalization/fishinglicense/weblet/signin_wc_fishinglicense&OAHP=irc_fishinglicense_woa
Oklahoma
https://license.gooutdoorsoklahoma.com/public/licenses/fishing#recreational
Oregon
https://odfw.huntfishoregon.com/
Pennsylvania
https://www.fishandboat.com/Pages/default.aspx
Rhode Island
https://dem.ri.gov/programs/fish-wildlife/freshwater-fisheries/licenses-permits.php
South Carolina
https://www.dnr.sc.gov/purchase.html
South Dakota
https://gfp.sd.gov/pages/department-info/license-office.aspx
Tennessee
https://www.tn.gov/twra/license-sales/fishing-licenses.html
Texas
https://tpwd.texas.gov/regulations/outdoor-annual/licenses/fishing/index.phtml
Utah
https://wildlife.utah.gov/licenses/fishing.html
Vermont
https://vtfishandwildlife.com/node/532
Virginia
https://www.dgif.virginia.gov/licenses/
Washington
https://fishhunt.dfw.wa.gov/
West Virginia
https://www.wvdnr.gov/Fishing/RegsLicenses.shtm
Wisconsin
https://gowild.wi.gov/customers/internet-sales
Wyoming
https://wgfd.wyo.gov/Apply-or-Buy
I hope this list helps you easily find the website to renew your fishing license online for your state. Let me know if you need any other information!
NB: Links provided may not always be valid or up to date. You can find full state fishing and hunting licence information here: https://www.fws.gov/initiative/fishing/purchase-fishing-license
Create an Online Account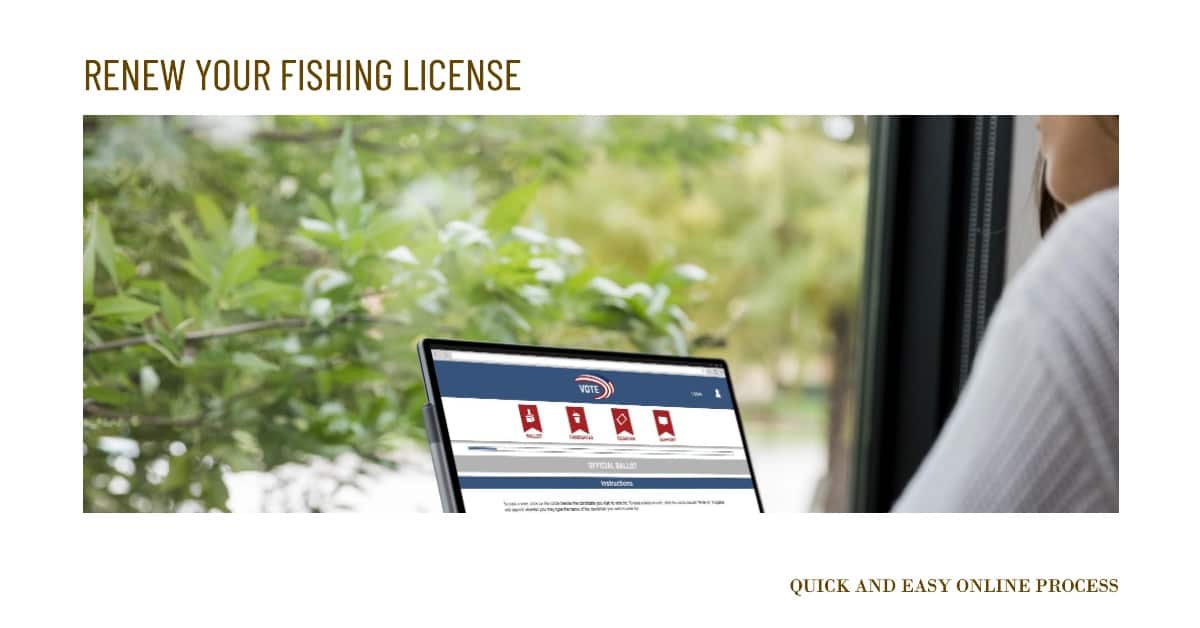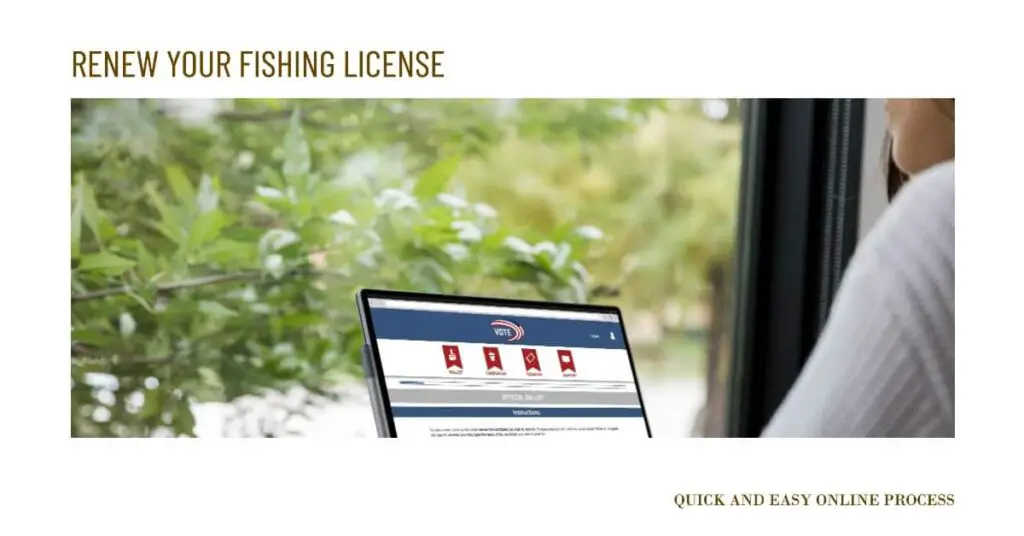 In order to renew online, you'll need an account with your state's online fishing license system. If you already have an account, simply log in. Otherwise, you can quickly set up a new user account. You'll need to provide personal information like your name, address, date of birth and email.
Select License Type
Once logged into your account, you can pick which type of fishing license you'd like to renew. Make your selection based on where you plan on fishing. For example, freshwater or saltwater licenses. Make sure you choose the right residency status as well since non-resident license fees are usually higher.
Submit Payment
To complete the renewal, you'll need to submit a secure online payment. Major credit cards are accepted. The renewal fee varies based on which type of license you're renewing. Once your payment goes through, your license will be instantly renewed!
Access Your New License
After payment, you should be able to log into your account and view, save or print out your new license certificate. Make sure to have this on hand when you head out fishing. Depending on the state, you may also be able to display a digital copy of your license on your smartphone.
With just a few quick clicks, you can renew your fishing license entirely online. It's the easiest and most convenient way to stay legal while enjoying your favourite fishing spot. So next time your license is nearing expiration, hop online and renew it from the comfort of your home.
Texas Fishing License Renewal
If you're a Texas resident and want to fish in the state's waters, you must have a fishing license. You can purchase an annual fishing license, valid for 365 days from the date of purchase, or a one-day fishing license. If you're 65 years old or older, you can get a free senior citizen fishing license.

To renew your Texas fishing license, simply login to your account on the Texas Parks and Wildlife Department website. From there, you can renew your license and print a new one. You'll need to provide your driver's license number or social security number when prompted.
When Can I Renew My Texas Fishing License?
In Texas, you can renew your fishing license online or at any location that sells hunting and fishing licenses. The Texas Parks and Wildlife Department (TPWD) offers a variety of different types of fishing licenses, so make sure to select the one that is right for you. For example, if you are a resident of Texas, you will need to purchase a Resident All-Water Fishing License.

If you are not a resident of Texas but plan on visiting and want to fish while you're here, you'll need to purchase a Non-Resident All-Water Fishing License. You can also purchase speciality licenses, such as the Saltwater Endorsement or the Freshwater Trout Stamp. Each license has its requirements and fees, so be sure to read all the information before making your purchase.

Once you have selected the type of license you need, you can buy it online through the TPWD website or in person at a licensed retailer. If purchasing online, you will create an account with TPWD, then log in and select "Buy Licenses/Permits." After adding the fishing license to your shopping cart and completing the checkout process, you will receive an email confirmation which includes your order number and instructions on how to print out your temporary license (good for 30 days).

Your permanent card will arrive in the mail within 10 business days. If buying your license in person, visit a participating retailer (a list of retailers can be found on the TPWD website)and provide them with proof of residency (if applicable)and identification. You will then complete some paperwork and pay the required fee using cash, check or credit card.

The retail clerk will give you a receipt, which is your temporary license until your permanent card arrives in the mail (within 10 business days).
Can I Have My Florida Fishing License on My Phone?
Yes, Florida offers a digital version of their fishing license, which can be stored on your phone. This is a great option for those who don't want to carry around a physical copy of their license or for those who might forget to bring it with them when they go fishing. The digital license is also convenient because it can be easily accessed and displayed when needed.
At What Age Do You No Longer Need a Fishing License in Texas?
In Texas, you do not need a fishing license if you are younger than 17 years old. If you are 17 or older, you must have a valid fishing license to fish in Texas waters.
How Much is a Year to Date Fishing License in Texas?
If you're looking to fish in Texas, you must have a valid fishing license. A year-to-date fishing license in Texas costs $30 for residents and $58 for non-residents. This type of license allows you to fish from the date of purchase through December 31st of the same year.

You can purchase a year-to-date fishing license online or at any location that sells hunting and fishing licenses.
Conclusion
Yes, you can renew your fishing license online. You will need to provide your personal information and payment information.
Useful Resource: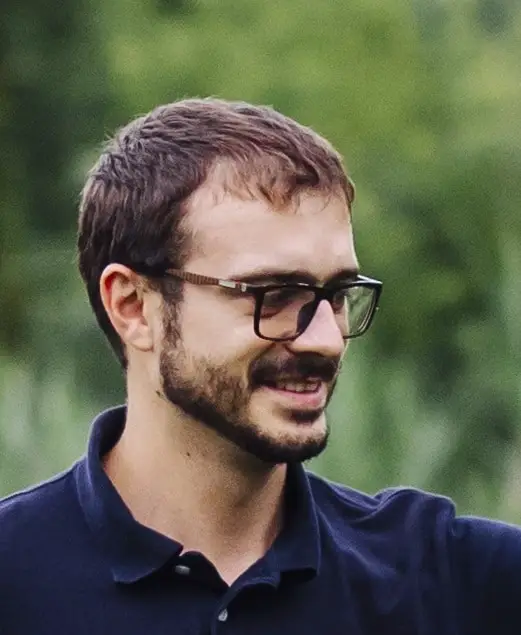 Tony is a professional fishing instructor and his hobby is fishing! He has been fishing for the last 4 years and he loves fishing instructor profession. Based on his experiences with the different type of fishing; he is sharing his opinion about various fishing technique so that a beginner can get started right away. Find him on Twitter. Happy reading!