Hey there! Fishingstaff is a participant in the Amazon Services LLC Associates Program, an affiliate advertising program designed to provide a means for us to earn fees by linking to Amazon.com and affiliated sites.
Catching the elusive Tuna from the deep sea is one of the most challenging game fishing. However, specialized deep-sea fishing reels for Tuna can meet those challenges. Strong fishing is required for Tuna and other game fish.
In this guide, we will review on top ten Best deep-sea fishing reels for Tuna. In the meantime, you will know the ideal size of a deep-sea fishing reel and the factors to choose a deep-sea fishing reel for Tuna. So, let's start now!
What to consider to choose the best reel for tuna fishing?
Here are some crucial parameters for choosing a suitable tuna fishing reel. If you are concerned about an ideal reel, read our buying guide first.
Reel Type:
Spinning and conventional baitcasting are the two main types of reels for Tuna. Each reel has its pros, cons and useability depending on fishing techniques. You can choose one as per your need.
Note that a spinning reel is best for easy casting with better distance and accuracy. Besides, spinning reels are suitable for multiple fishing techniques, including vertical jigging, casting lures and live bait fishing. Beginners always prefer spinning due to the easy casting.
On the other hand, baitcasting reels are good for better control and power when handling a larger tuna. Besides, baitcasting reels have a higher gear ratio, faster line retrieval and a stronger dragging system. Generally, experienced anglers prefer to use baitcasting reels for tuna fishing.
Reel Size:
Reel size varies depending on the size of the Tuna. A 4000 to 8000 spinning reel and 20 to 40 sizes baitcasting are ideal for medium-sized Tuna. Medium-sized Tuna means yellowfin tuna or albacore.
However, you will need more powerful, heavy-duty bluefin, yellowtail, or bigeye tuna reels. So, consider the 8000 to 14000 range for bluefin tuna fishing reels. If you want to use a spinning reel for larger bluefin tuna, consider the 50 to 100-size range.
Line Capacity:
Anglers recommend to use a 300 to 500-yard braided or monofilament line for medium Tuna. So, choose a reel that can hold 300 to 500 yards of fishing line. On the contrary, 500 to 800 yards of monofilament or braided is required for larger Tuna. So, choose a reel with more line-holding capacity when targeting larger Tuna. However, keeping some additional lines for all types of tuna fishing is good.
Gear Ratio:
The best practice is to use a tuna fishing reel with an adjustable gear ratio. For example, you can choose two-speed reels to change the gear ratio as required.
Ball bearings:
A tuna fishing reel should have 5 or 6 ball bearings. However, lower ball bearings can also perform well.
What is the best live bait for yellowfin tuna?
Tuna is a sea fish and lives in saltwater. Good to know that tuna love to eat different species of small fish in different seasons. So, here is the list of some live baits for Tuna.
Sardines
Squid
Pilchards
Mackerel
Ballyhoo
Butterfish
Threadfins
Menhaden
Sardines: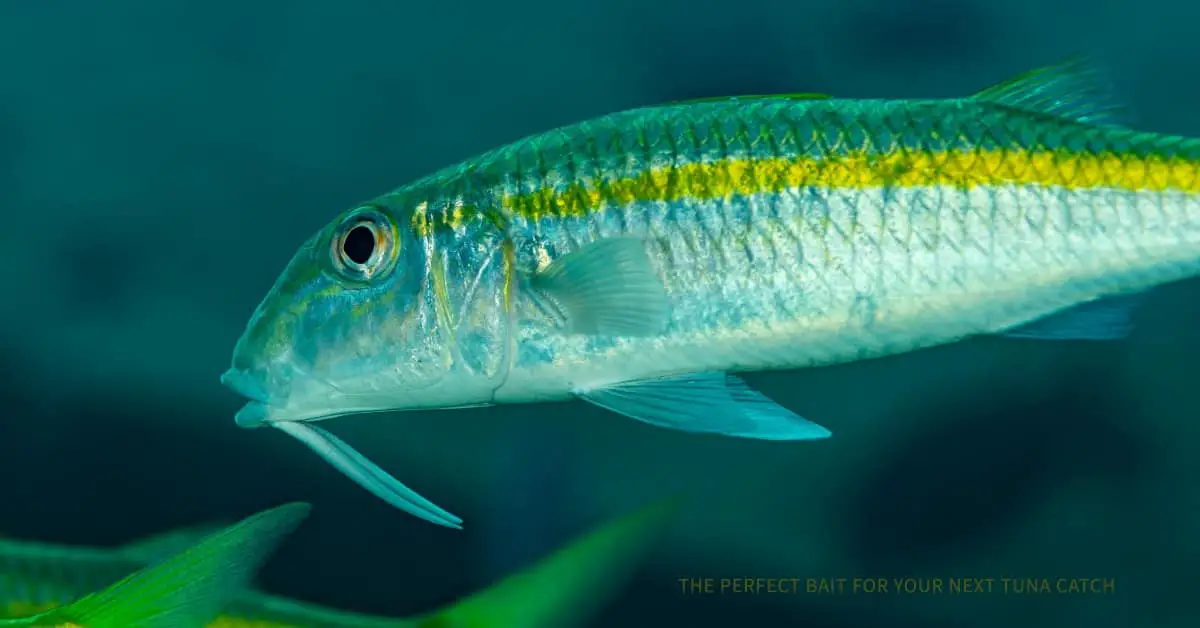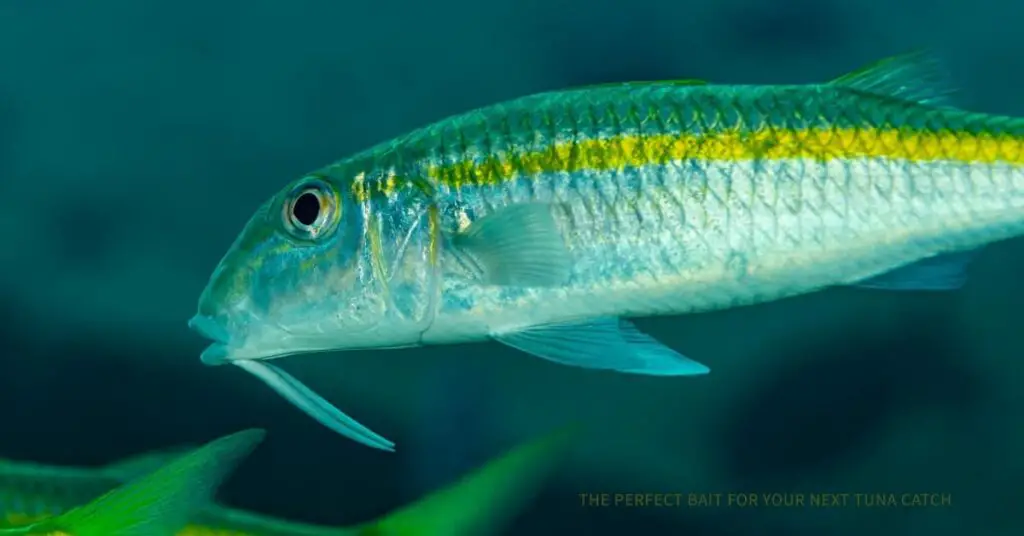 A Sardines is a small fish from the Herring family. It can be used as live or dead bait for Tuna. The average length of sardine is around 6-9 inches. Also, note that live sardine is very active and tricky to control for beginners. Local fishing shops are selling dead sardines.
Butterfish: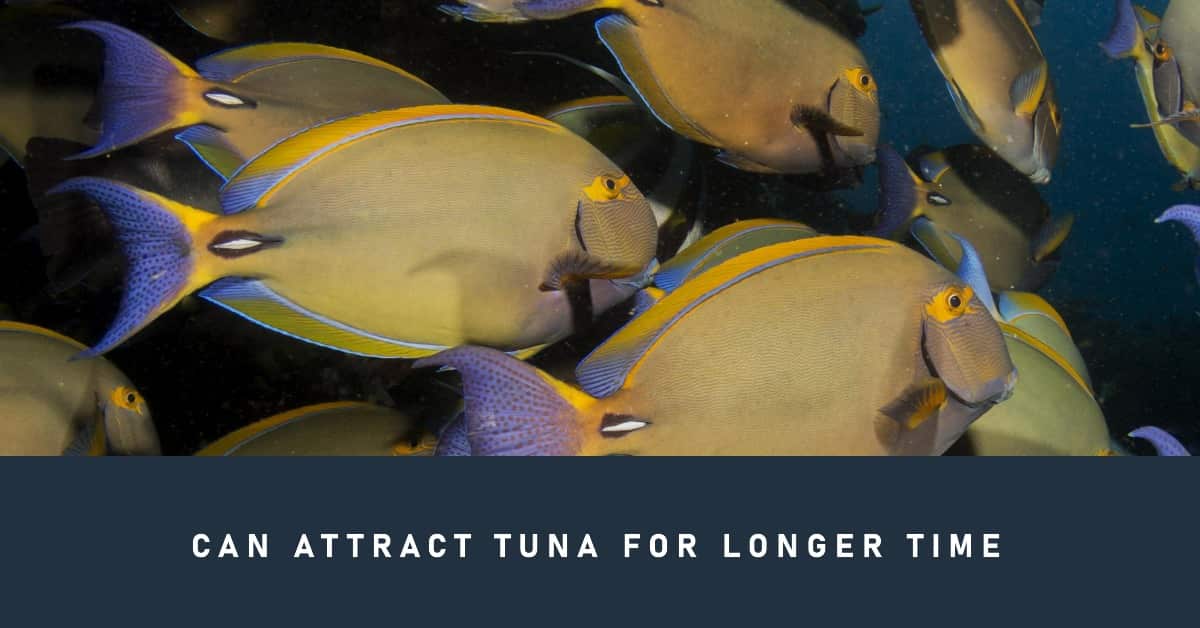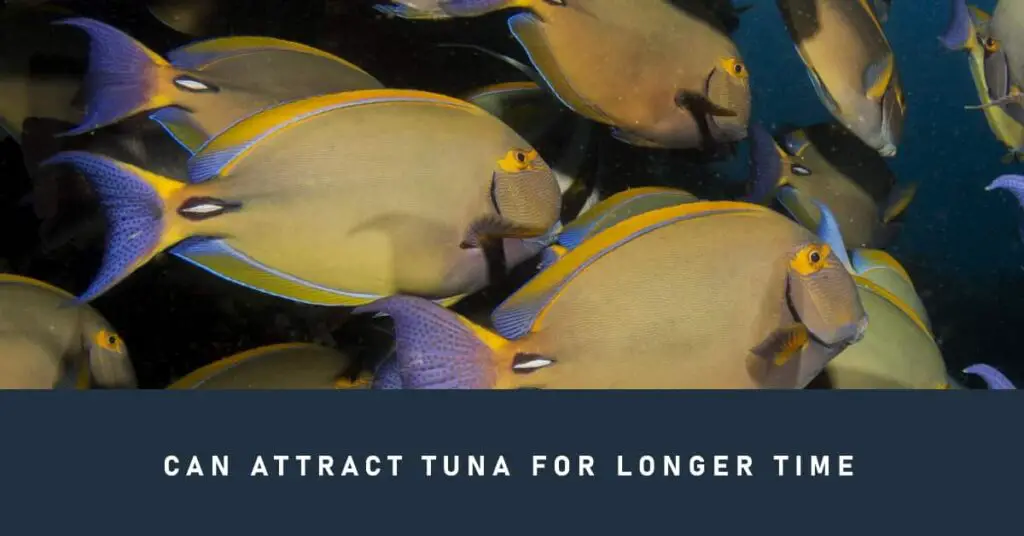 Butterfish is a small fish from the Gulf of Mexico. These are 6-9 inches longer and can attract a tuna for five hours. Dead Butterfish is available in fishing shops.
Ballyhoo: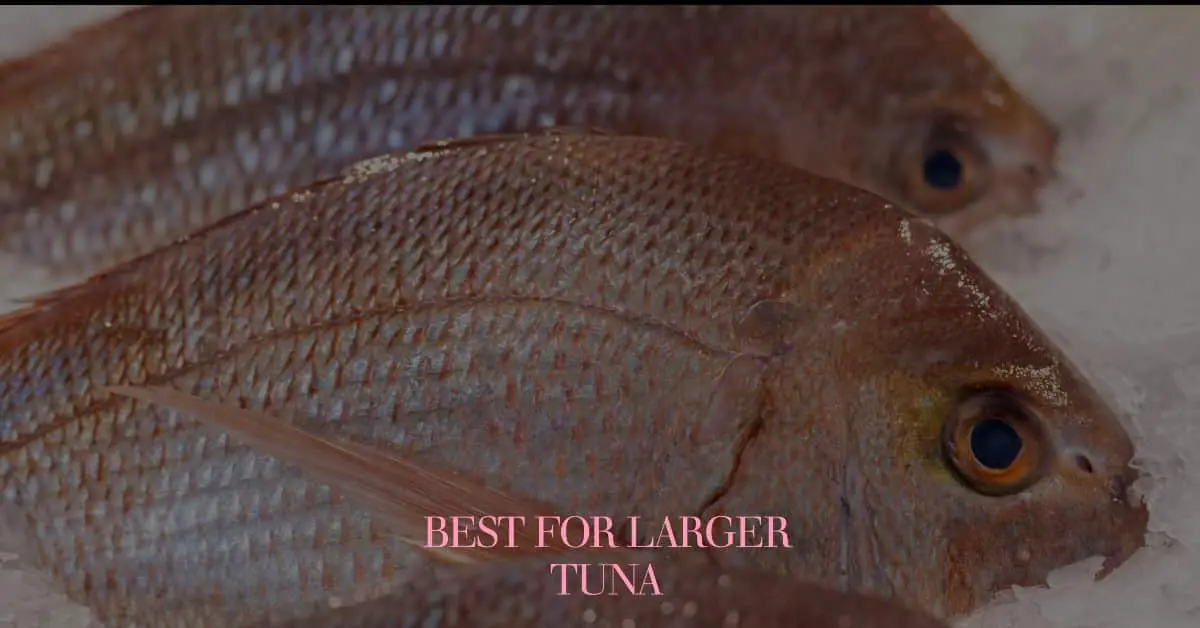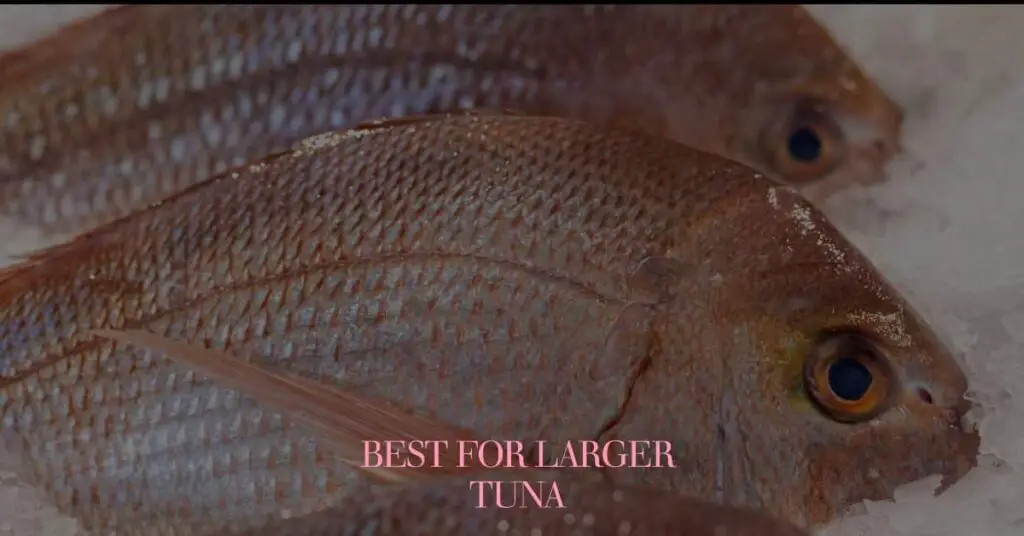 Ballyhoo is found in different sizes. A small ballyhoo is good for medium Tuna and a large one for larger Tuna. You can find ballyhoo live or dead bait in any nearest fishing store.
Mackerel: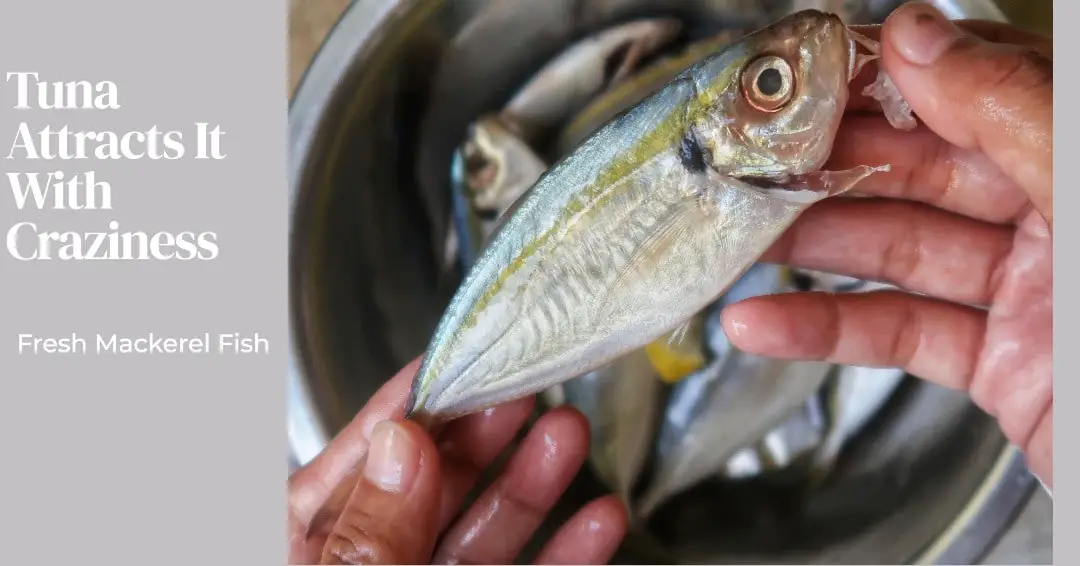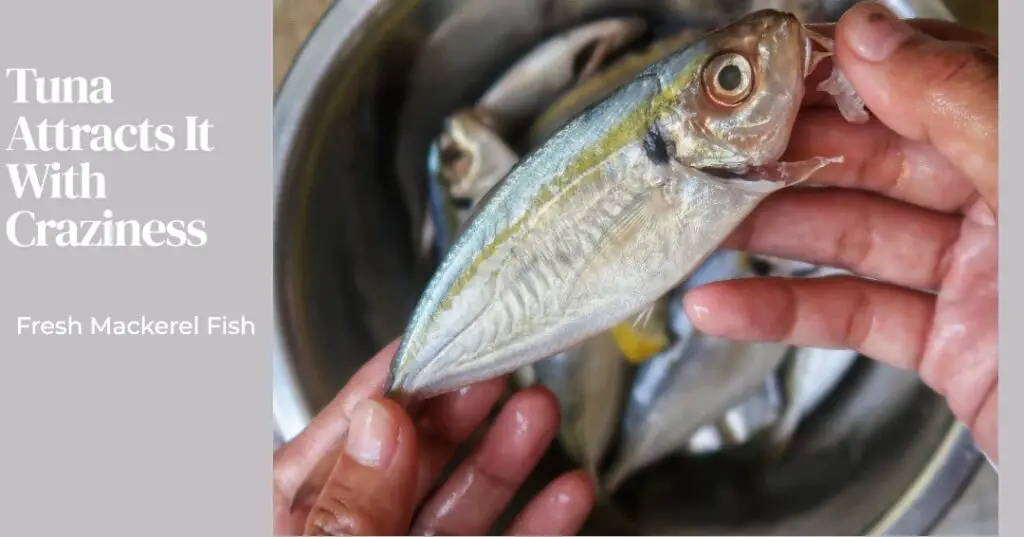 Tuna loves small mackerel. So, mackerel is considered as one of the best baits for Tuna. Some anglers said that Tuna attracts mackerel with craziness. Do note that mackerel's average size is 7 to 9 inches.
Menhaden: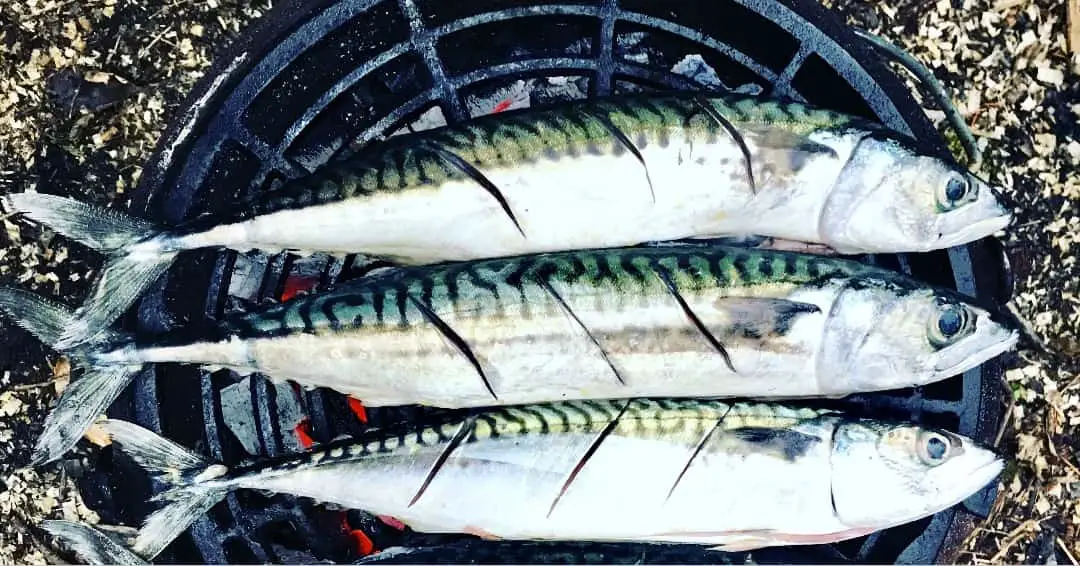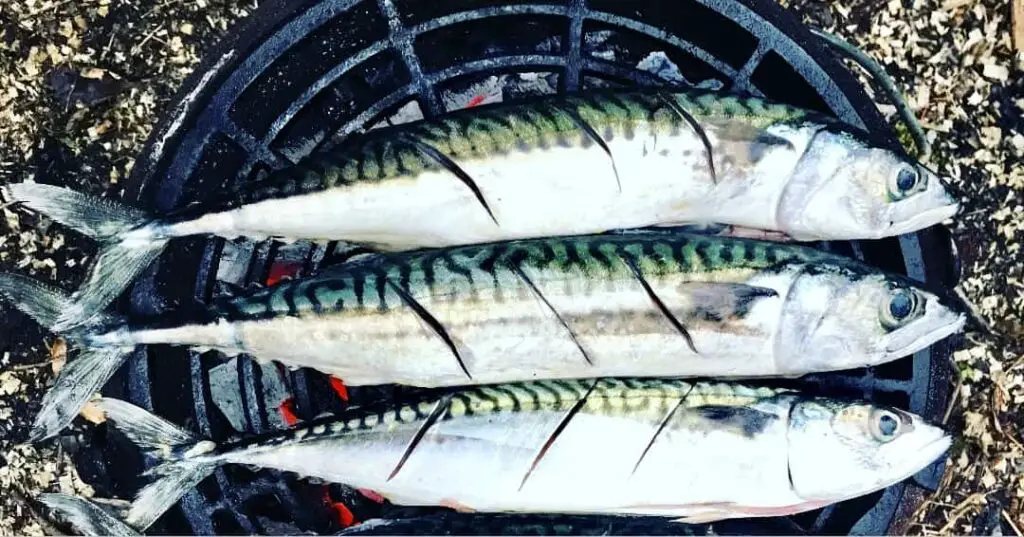 Menhaden is mostly found in Atlantic East Coats and Chesapeake Bay. It is known as a favourite bait for Tuna.
What are the different types of bait for tuna fishing?
Varieties of baits are used for Tuna. Here is a list of several bait types.
Live Bait:
Live bait means using live small fish species like sardines, mackerel, Butterfish, and ballyhoo. Note that live bait is very efficient in attracting Tuna. However, using live bait is tricky for beginners.
Dead bait:
Dead bait is the best option for trolling or chunking Tuna. Besides, using dead bait is easy for experts and beginners. Even these are easily found in fishing shops. The most used dead bait includes mackerel, squid, bonito and sardines.
Chunk Bait:
In chunking, smaller pieces of larger baitfish attract Tuna near the boat.
Artificial Lures:
Fast-moving artificial lures are effective in making Tuna aggressive. Especially, feather jigs, deep-diving plugs and cedar plugs are well-known artificial lures for Tuna.
Poppers:
The topwater poppers work excellently when targeting Tuna from the water surface.
Butterfly Jigs:
Butterfly jigs are designed to catch underwater tuna fish. These jigs run
 sporadically under the water that looks like a fast speed smaller fish species. 
What is the best tackle setup for Tuna?
Leader:
Use a 6 to 10-foot longer fluorocarbon leader with the primary fishing line. The Fluorocarbon line has a nice breaking strength. Besides, it is corrosion-resistant and nearly invisible under the water.
 Terminal Tackle:
Use the powerful, stronger hook to attach the bait to the line. Heavy-duty snaps and swivels are good to go.
Lures and baits:
Arrange different types of artificial lures and baits for Tuna. Tuna can attract with several baits.
What is the required drag for Tuna?
Using the heaviest stainless gears to handle a larger tuna is mandatory. So, go with a carbon fiber drag system with 130 pounds of pressure. Only a powerful fishing reel, rod, line and drag system can help catch bluefin tuna like giant fish.
FAQs:
What is the ideal reel size for tuna fishing?
The reel size is different for medium to larger Tuna. Let's know
For medium Tuna like skipjack and albacore:
A 4000 to 8000 sizes spinning reel
A 20 to 30 sizes baitcasting reel
For Larger Tuna like bluefin and yellowtail:
An 8000 to 10000 sizes spinning reel
A 50-80-size baitcasting reel
What is the ideal rod size for tuna fishing?
Powerful, heavy-duty and faster fishing rod is required for tuna fishing. The ideal rod length is 6'6″ to 7'6″ for tuna fishing.
 What refers to deep sea fishing reels?
Deep sea fishing reel also means offshore fishing reels. These reels are more powerful to meet the harsh conditions of the sea. Besides, these reels are highly corrosion-resistant. 
What is the average cost of the best tuna fishing reel?
The cost of a tuna fishing reel may differ based on model, brand and quality ratings. There are some available tuna fishing reels within $100 to $150. On the other hand, the best tuna fishing reels average price can cross $500.
Is it good to use live bait for tuna fishing?
Yes, even using live bait can make you twice as successful in catching Tuna. However, presenting live bait for tuna fishing is a sensitive process. So, the anglers need some pre-expertise to target Tuna with live bait.
What is the most expensive fishing reel?
Generally, offshore or game fishing reels are designed with more power and strength. Besides, these come with advanced technology. That is why offshore fishing reels are considered the most expensive. Sometimes, reel expensiveness may depend on the reel size and the manufacturer's reputation.